Primavera Sound is an annual music festival held in June in Barcelona, Spain. It is the second largest music festival in Europe and attracts more than 2 million visitors each year. The first Primavera Sound was held in 2001 in Poble Espanyol, with around 8,000 attendees. In 2003 the number of attendees grew to 24,000, and in 2005 it moved to its current location, Parque del Fórum, where it has been held ever since. In 2019, there were more than 220,000 visitors and more than 300 artists performing on 20 stages.
After the last two years could not be held due to the pandemic, and on the occasion of the 20th anniversary of the festival, the organisers have decided that Primavera Sound 2022 will last two weekends instead of just one. It will also be the year with the most guest artists, there will be more than 400 artists offering more than 500 performances with different styles, ranging from rock to urban music.
When will the festival take place?
Primavera Sound 2022 will be held from Thursday 2 to Sunday 12 June. The main performances will take place on the weekends of 2 to 4 and 9 to 11 June in Parque del Fórum. But you can also enjoy the festival during the week, as this year Primavera a la ciutat is back, with performances scheduled beyond the weekend in different venues and spaces in the city, such as Razzmatazz, Apolo, RED58, Sidecar, Poble Espanyol, LAUT, Luz de gas and Jamboree.
This edition of the festival closes on Sunday 12 June with Brunch on the Beach, a closing party with several concerts on the beach in Sant Adrià de Besós.
In addition to the main festival in Barcelona, Primavera Sound also has several spin-off events taking place in Santiago de Chile (Chile), Buenos Aires (Argentina) and Porto Alegre (Brazil), with the same lineup as Barcelona.
Primavera Sound 2022 lineup
Primavera Sound 2022 will bring together some of the best international artists, from DJs to pop singers. Among the extensive lineup for this year's edition of Primavera Sound are: Nick Cave & The Bad Seeds, Dua Lipa, The Strokes, Massive Attack, Megan Thee Stallion, Jorja Smith, Tyler the Creator, Tame Impala, Charli XCX, Pavement, Lorde and Bad Gyal.
Weekend 1 lineup: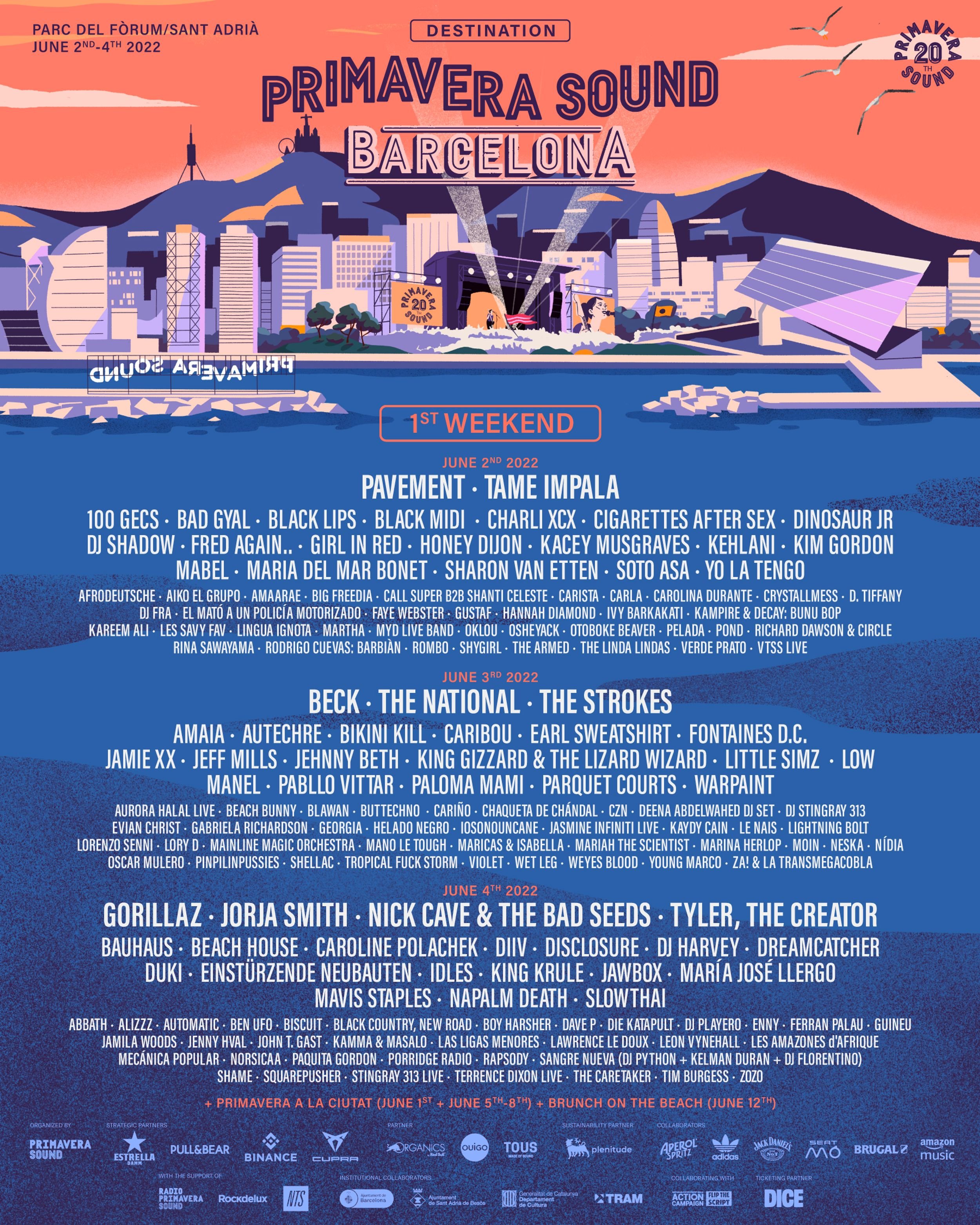 Weekend 2 lineup: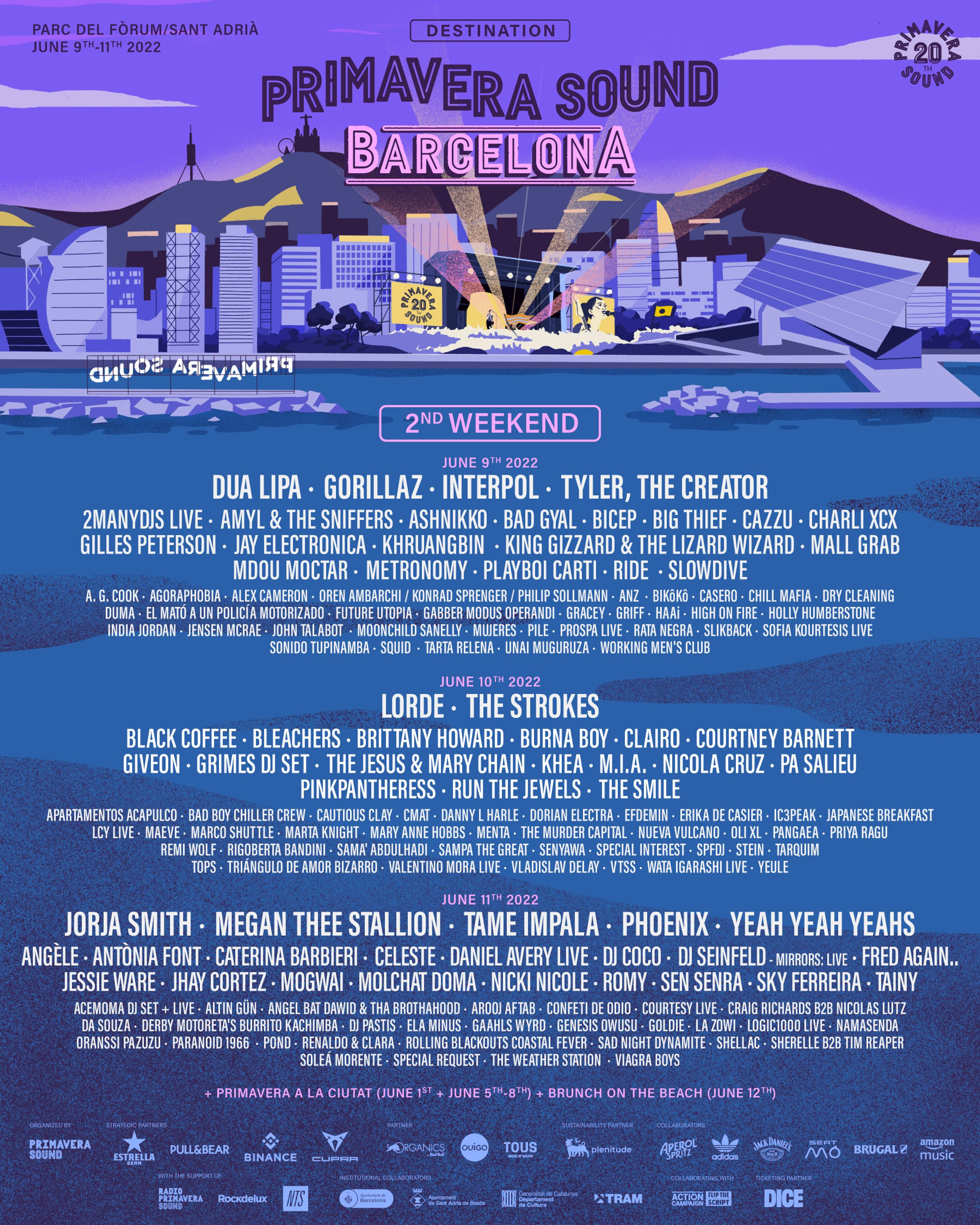 How to get to Primavera Sound
There are several ways to get to Primavera Sound, but the best option is definitely Mitaxi.net. You can book a taxi, private transfer or even better, a Minivan (to go with your friends) at the Airport or anywhere in Barcelona. You can also go directly from anywhere in Spain.
Other options to get to the festival are by tram (line T4), metro (line 4) or bus (lines H16, H14, 7, 136, V31, 143, N6 and N7).
Primavera Sound 2022 tickets
You can buy tickets by phone or online. Primavera Sound sells tickets through various points of sale. Prices include booking fees, which vary depending on where you buy them. You sholud also know that all tickets already purchased for the 2020 and 2021 editions will allow you to attend the 2022 Primavera Sound.
Tickets are sold separately for each weekend (Weekend 1 and Weekend 2), but unfortunately, they have sold out shortly after going on sale. However, a waiting list is available in case there are buyers who are unable to attend and return their tickets. To facilitate ticket arrangements, attendees will need to download the Access Ticket app. More information about tickets can be found on the official website.