Viña Rock is one of the most emblematic music festivals in Spain and is held annually in Villarrobledo, Albacete. Since its creation in 1996, this event has been gaining popularity to become a reference for music lovers, the 2022 edition broke all records with more than 240,000 attendees. Lasting three days, Viña Rock offers a unique experience for spectators, who can enjoy concerts on seven stages, complementary activities and an incomparable festive atmosphere.
Every year this festival brings together artists from various genres such as rock, punk, metal, rap, reggae, ska and electronic. Thousands of people travel from different parts of the country and the rest of the world to take part in this musical event. If you are looking to enjoy live music and an unforgettable atmosphere, Viña Rock is a festival not to be missed.
Where does Viña Rock take place?
Viña Rock is held in Villarrobledo, in the fairground that bears its name (Recinto Viña Rock), and is located on Avenida Miguel de Cervantes. It has a capacity of around 200,000 people.
The festival also has a large camping area where the attendees can rest and make use of showers, toilets, mobile phone charging, etc.
When will this festival take place?
Viña Rock 2023 will be held from 28 to 30 April (Friday, Saturday and Sunday). But there will also be a welcome party on the 27th at the festival site.
How to get to Viña Rock
The fastest and most comfortable way to get to Viña Rock is with Mitaxi.net. On our website you can book a taxi or even a Minivan (up to 8 people) to get to Villarrobledo quietly and without worries.
Other ways to get to the festival are:
The DeFestivales official bus: They take you from more than 30 cities in Spain to the accreditation point of the festival. The price varies between 36 and 80 euros depending on the city of origin.
Train: There are several trains available, both regional and long distance, connecting some of the main cities with Villarrobledo. You can depart from Madrid, Valencia, Alicante or Albacete, or change trains in any of them.
Viña Rock 2023 lineup
The Viña Rock 2023 line-up includes artists such as Desakato, Ska-P, Barón Rojo, Narco, Ayax y Prok, Tanxugueiras, Green Valley, Boikot and El Chojin.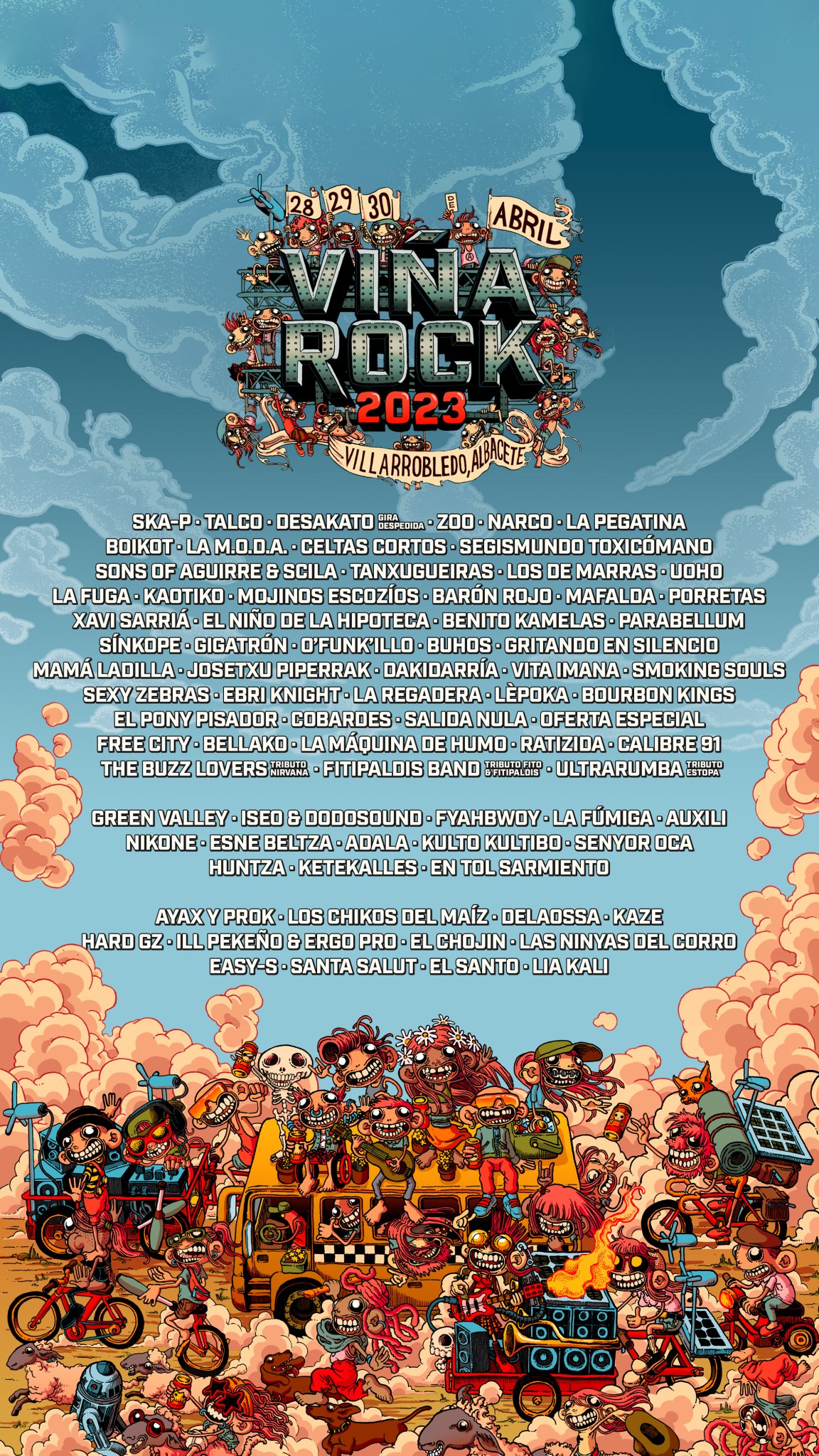 Tickets
Tickets can be purchased online at the Viña Rock website, but unfortunately they are already sold out. There are only tickets left for some complementary services such as:
Glamping: Tents set up in the rest area that you can enjoy for 4 nights. This ticket costs between 70 and 500 euros, depending on the type of tent.
Shower ticket: For unlimited use of the showers during the whole festival. There are 2 shower areas (north and south), this ticket costs 6 euros.
Saving kit: A pack of drinks for 10 euros.